Below are just a few success stories from people, like you, who have been the victims of bad credit. More importantly, these are the same people who followed the simple steps found in The Credit Games and fixed their own credit scores without paying somebody else to do it!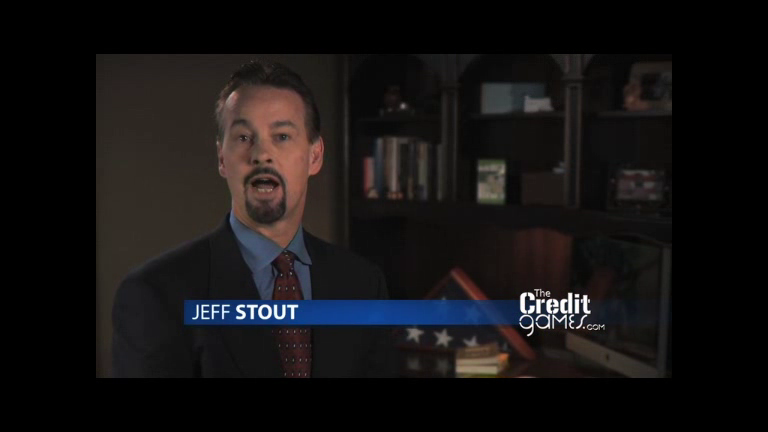 Instant Access to Our Free Video
"This book takes the complex world of credit and breaks it down into simple concepts that anyone can use to improve their score and better understand the ever-changing world of banks and lenders. Jeff's back ground and clear-cut advice will give you solid take home wisdom to help you navigate a new course to financial literacy and to start playing a bigger game!" ~Mark Eaton, NBA All Star
"I read The Credit Games last night. I never thought I would read a book on credit and not be able to put it down. I would like to buy 10 copies or so and give them to my clients." ~Barlcay Emery, investment advisor
"Jeff Stout knows his topic inside-out and he writes like an angel! There's no hocus-pocus here. Jeff explains in straight-forward detail how credit scores work, dispelling many myths along the way. This book also will make you richer in a broader sense-wiser and more confident to take charge of your own life. And it's a great read, offering delightful stories, fun quotes and humor that often will leave you laughing out loud. " ~Jane Ransom, MA, C.Ht.
"The Credit Games is written for any person or family serious about bringing change to their financial wellbeing. It should be required reading for all high school students and all of us that never had the opportunity to learn and practice the ideas that Jeff Stout so clearly put together in his book. This is a classic example of how knowledge is power and power translates into freedom. " ~Julio Garreaud, CEO, Human Architecture
"I had to work with a mortgage loan company for almost six month to try to qualify for a mortgage loan. But then a friend told me about The Credit Games system. I took their advice and I moved my money from one account to another to pay off my credit card debt. Within one month, my credit score increased by 33 points. Thanks to The Credit Games, I was able to purchase my first home."
~Angela, A Credit Games Customer
"We had a bankruptcy in our past and we didn't think we'd ever get a home loan. We felt we cleaned things up but we didn't seem to get any better credit. Then we found The Credit Games. We found errors on our report that were still dragging our scores down. A simple letter to the credit agencies corrected the issue and my score went up 44 points just in one month. And mine went up 64 points and we got the home. Thanks Credit Games! "
~Scott & Jane, Credit Games Customers
"My husband and I were trying to qualify for a loan but my credit score was only 617. By using The Credit Games system, we were able to identify two small errors on my credit report that we would never had noticed otherwise. We got the errors corrected and within 30 days my credit score shot up to over 700. Credit Games rocks!!"
~Jessica, A Credit Games Customer
"My sister and I have similar names and I think that's why our credit got mixed up. I used The Credit Games system to identify the accounts that weren't mine and have them permanently removed from my credit. It not only increased my score but helped reduce the debt showing on my loan application. Couldn't have done it without The Credit Games."
~Michael, A Credit Games Customer
"My credit score was pretty low. Under 620. I didn't know what to do. I had a few collections on my credit. I really didn't have much credit. But The Credit Games had a solution for my situation though. I got put on my Dad's credit card and within a couple of months, my score shot up 69 points. Now, I can get approved for my own car and build a solid history on my own."
~Mitchell, A Credit Games Customer
"My credit was horrible due to past financial issues including a bankruptcy. I was embarrassed and I didn't want anybody to know about my credit. But then I found The Credit Games and it turns out that my score was just way to low because of all the errors on my credit. With one simple letter, it improved my score by 78 points."
~Sharon, A Credit Games Customer